Armenian Parliament Extends Mandate Of Iraq Force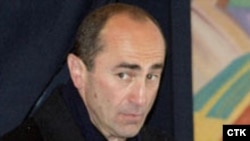 President Robert Kocharian is coming under pressure to pull Armenian troops out of Iraq. (CTK) 8 December 2005 -- Armenian lawmakers today voted 73-12 to extend the mandate of troops stationed in Iraq for another year. The opposition abstained.
President Robert Kocharian is facing mounting criticism over Armenia's participation in the U.S.-led military campaign in Iraq.
The 46-strong Armenian contingent serves under Polish command in southern Iraq.
The Armenian troops -- which include doctors, truck drivers, and explosive experts -- have been serving in Iraq for nearly a year on what the government describes as a "humanitarian mission."
(A1Plus/AP)


SUBSCRIBE For weekly news and in-depth analysis on Armenia, Azerbaijan, Georgia, and Russia's North Caucasus by e-mail,
subscribe to "RFE/RL Caucasus Report."