Ukraine Confirms More Bird-Flu Outbreaks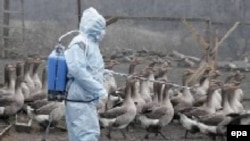 Ukrainian vets disinfect a farm in eastern Ukraine (epa) 9 December 2005 -- Ukraine has confirmed more bird-flu cases in two additional villages in the Crimea region.
There are now a total of eight affected villages, all located on the Black Sea Peninsula.
Ukraine recorded its first case of bird flu on 3 December. It is now waiting for results from a British laboratory next week on whether the virus is the deadly H5N1 strain, which has killed at least 69 people in Asia and devastated bird flocks.
(AP/Interfax)