Gotovina To Plead Not Guilty; Croat Supporters March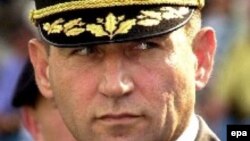 Ante Gotovina in 2000 (epa) 11 December 2005 -- The lawyer of former Croatian General Ante Gotovina says Gotovina will plead not guilty to war crimes charges when he makes an expected appearance before the UN court in The Hague tomorrow.
Lawyer Luka Misetic told Croatia's HINA news agency his client is "relaxed and self-confident" and believes he can answer the charges against him.
Gotovina, Croatia's top war-crimes suspect, was arrested in Spain last week. He is accused in connection with the killings of 150 Serbs by troops under his command and for the expulsion of about 150,000 others during Croatia's 1991-95 war.
Tens of thousands of people gathered in the Croatian coastal town of Split today in support of Gotovina. Smaller rallies also took place in Vienna and the town of Mostar in Bosnia-Herzegovina.
(AFP)