Tomorrow, Iraqi voters living outside the country will begin casting their ballots at polling centers in 15 countries, including the United States, Canada, and Australia.
The main vote for the 275-member National Assembly that will serve as the first full-term legislature since Saddam Hussein's regime fell in April 2003 will take place on 15 December.
Iraq's Defense Ministry fears an upsurge in violence ahead of the elections and has therefore announced a number of security measures, including overnight curfews and the closing of borders and airports.
(AFP/AP)
Iraqi Election Poster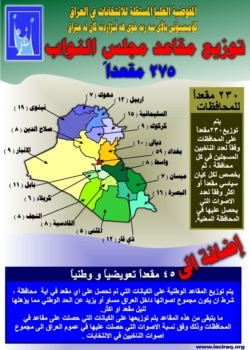 Click on the poster for an enlarged image.
The Iraqi Independent Electoral Commission issued posters in Arabic and the two dialects of Kurdish on the allocation of National Assembly seats by governorate for the 15 December National Assembly election. The poster says, "230 seats for the governorates, as well as 45 compensatory and national seats," while the corresponding map shows the breakdown of seats by governorate.
For more background on the election, click here .



For a complete archive of RFE/RL coverage, background, and analysis of the December 15, 2005, legislative elections, click here.