Police say Mizhar al-Dulaimi was shot dead today while campaigning in Al-Ramadi, capital of western Anbar Province.
Dulaimi, who headed the independent Free Progressive Party, was a candidate for legislative elections to be held on 15 December.
Iraqis living abroad are able to cast their ballots beginning today.
(Reuters/AFP)
Iraqi Election Poster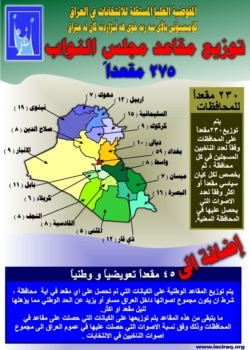 Click on the poster for an enlarged image.
The Iraqi Independent Electoral Commission issued posters in Arabic and the two dialects of Kurdish on the allocation of National Assembly seats by governorate for the 15 December National Assembly election. The poster says, "230 seats for the governorates, as well as 45 compensatory and national seats," while the corresponding map shows the breakdown of seats by governorate.
For more background on the election, click here .



For a complete archive of RFE/RL coverage, background, and analysis of the December 15, 2005, legislative elections, click here.