IAEA's El-Baradei Says World May Have 30 Nuclear States In 10 Years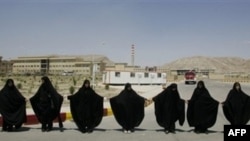 Iranian students demonstrate in support of Iran's nuclear program, August 2005 (AFP) 13 December 2005 -- Nobel Peace Prize winner Muhammad el-Baradei today warned that as many as 30 states could have nuclear weapons within the next 10 to 20 years if global nonproliferation efforts are not improved.
El-Baradei, who shared the award with the International Atomic Energy Agency (IAEA) he heads, told an audience at Uppsala University in Sweden that the world faced "a fundamental choice."
He predicted that "in the next 10-20 years, 20 or 30 countries will have nuclear weapons" if the world continues to rely on atomic weapons.
The alternative, he said, is for all countries to end their nuclear weapons programs and to destroy their existing nuclear arsenals.
El-Baradei said that accepting a world with nuclear weapons "is the beginning of the end" for mankind.
(AP)

THE COMPLETE PICTURE: RFE/RL's complete coverage of controversy surrounding Iran's nuclear program.
CHRONOLOGY
An
annotated timeline
of Iran's nuclear program.