Today's announcement is the latest step in a mounting war between Kyiv and Moscow over gas rates. Gazprom yesterday threatened to cut off all gas supplies to Ukraine if no price agreement is reached by 1 January.
Ukraine currently pays $50 per 1,000 cubic meters.
If Gazprom makes good on its threat, Ukraine will soon be forced to pay more than four times as much.
Aleksandr Medvedev, the deputy chairman of the Gazprom board, in televised remarks today, outlined the new terms.
"This will not be a fixed price. It will be a price formula devised on the basis of international rules, taking into consideration prices for competing types of fuel, oil, diesel fuel," Medvedev said. "And this average price for our European consumers for gas delivered to the Ukrainian border will be at $220-230 starting 1 January."
Tense Negotiations
Ukraine for months has been engaged in tense talks with Gazprom over a threatened price rise to just $160 per unit.
Ukraine, which receives a reduced rate in exchange for its transit of Russian gas to Western Europe, argued it was unable to afford even what the Russian side called a "compromise" agreement.
Medvedev said today Ukraine had wasted time in the negotiations, and that changing economic conditions meant the Russian gas monopoly would have to push for even higher prices that reflect market reality.
"Ukraine has wasted time on the negotiation process, and today we can't talk about $160 anymore. The market situation has changed and it changes constantly, so we can only talk about setting the price on the Russian-Ukrainian border in accordance with European prices -- of course, taking into account transport costs on Ukrainian territory," Medvedev said.
Gazprom head Aleksei Miller yesterday threatened to cut off all gas supplies to Ukraine if an agreement could not be made before 1 January.
Responding to the announcement, Ukrainian President Viktor Yushchenko today called on Russian and Ukrainian negotiators to refrain from politicizing the gas talks.

Yushchenko said he hoped both sides will come to realize their mutual economic interests and that a solution will be found by year's end. He also said negotiations to switch to market prices for gas supplies should include an agreement to liberalize gas transit tariffs.
CIS Tariffs
Gazprom has moved to raise gas tariffs for all of its CIS clients, Belarus being a notable exception.
Many CIS governments consider the step a political provocation meant to intimidate them as they lean further West. Gazprom has denied the charge.
Gazprom last month told Georgia it would raise its gas rates from $60 per 1,000 cubic meters to $100. A meeting scheduled today in Tbilisi between Gazprom officials and Georgian authorities has been cancelled.
(Agencies)
Interview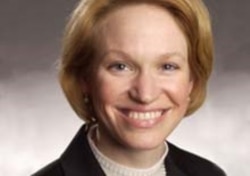 Celeste Wallander directs the Russia and Eurasia Program at the Center for Strategic and International Studies and is a CSIS senior fellow. Before joining CSIS, she was senior fellow at the Council on Foreign Relations in Washington, D.C., and associate professor of government at Harvard University. She is the founder and executive director of the Program on New Approaches to Russian Security. Her recent projects include work on U.S.-Russian security cooperation, the history of Russia and globalization, HIV/AIDS in Russia, and the 2004 Ukrainian presidential election. Among her books are "Swords And Sustenance: The Economics Of Security In Belarus And Ukraine" and "Mortal Friends, Best Enemies: German-Russian Cooperation After The Cold War." She is currently writing "Global Russia: Economics, Politics, And Security."
On November 29, 2005, she spoke with RFE/RL's Ukrainian Service about Russia's energy policies and how Moscow might be seeking to leverage its influence over its neighbors. Listen to the complete interview.
Real Audio Windows Media
To read a transcript of the interview,click here.
Related Articles: