A number of explosions were heard around Baghdad in the first several hours after voting began at 7 a.m. local time, including a large blast near the fortified Green Zone government headquarters. There were no immediate reports of casualties or damage.
In the northern city of Mosul, police said one guard was killed in a bomb explosion near a polling station.
Iraqi electoral officials said the opening of some polling stations in Al-Anbar Governorate, west of Baghdad, had been delayed for security reasons.
Up to 15 million Iraqis are eligible to cast ballots for candidates to serve a four-year term in the 275-member National Assembly. More than 7,600 candidates are running for office.
Interim Prime Minister Ibrahim al-Ja'fari told reporters in Baghdad after casting his vote: "Today, Iraq is sending a message to the entire world -- that the people's will for democracy is stronger than tyranny. Democracy does not mean an election only. It means that the people doing the electing will keep a watchful eye, scrutinizing the conduct of the parliament and the conduct of the government."
Sunni Arab leaders, who urged a boycott of elections for the interim parliament in January, have called on supporters to go the polls this time to compete against parties representing majority Shi'a, Kurds, and other political interests.
Speaking to Radio Free Iraq outside a polling center in a village near Ba'quba, one woman said: "Today is an Iraqi feast. We are defying terror for stability and security to be achieved, God willing. We are looking to a better future in a democratic, united Iraq."
A man in Baghdad told Radio Free Iraq after casting his ballot: "At 7 a.m., I was the first to go into the polling center, together with my wife. During the referendum on the constitution, I was also the first at the polling center. This is indescribable. I simply don't believe this is happening in Iraq. Even in my dreams, I would not have imagined this would occur in Iraq."
(RFE/RL /Reuters/AP/AFP/CNN/BBC)
Iraqi Election Poster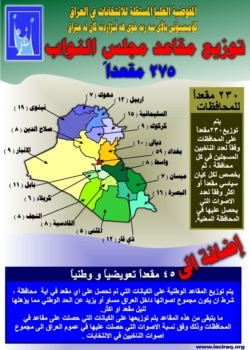 Click on the poster for an enlarged image.
The Iraqi Independent Electoral Commission issued posters in Arabic and the two dialects of Kurdish on the allocation of National Assembly seats by governorate for the 15 December National Assembly election. The poster says, "230 seats for the governorates, as well as 45 compensatory and national seats," while the corresponding map shows the breakdown of seats by governorate.
For more background on the election, click here .



For a complete archive of RFE/RL coverage, background, and analysis of the December 15, 2005, legislative elections, click here.