Iraq: Voting For National Assembly Proceeding Smoothly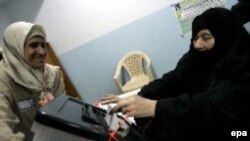 Iraqi woman voting in Baghdad (epa) Prague, 15 December 2005 (RFE/RL) -- Iraqis are today taking a major step, as they vote to elect 275 parliamentarians to the country's new National Assembly, the first full-term, democratic parliament since Saddam Hussein was toppled by a U.S.-led coalition of forces.
Correspondents at the scene say queues began forming at some polling stations in the early morning.
One Iraqi woman told Radio Free Iraq's Salim Hussein at a polling center in a village near Ba'quba in Diyala Governorate: "Today is an Iraqi feast. We are defying terror for stability and security to be achieved, God willing. We are looking to a better future in a democratic, united Iraq."
There has been some scattered violence today. Baghdad is reported mainly calm, except for an explosion near the city's fortified Green Zone of government offices. There are no immediate reports of casualties. Blasts were also reported in Al-Ramadi, west of the capital, and in Tikrit and Mosul, in the north. At least one person is reported to have been killed in the Mosul attack.
"Iraqis are living a historical moment today -- that is, the elections.... We hope to live in stability and security in Iraq, in the north and in the south, east to west."
Meanwhile, Iraqi officials said the opening of some polling stations in Al-Anbar Governorate, west of Baghdad, were delayed for security reasons.
Iraq's ambassador to the United Nations, Samir al-Sumaydai'i, said strong voter participation is expected, despite the dangers. "We expect a very high turnout, irrespective of any challenges or attempts by terrorists to hinder or impede the voting process," he said. "We believe that it will be an overwhelming statement by the Iraqi people that this is the way they want to go."
Iraq's top Shi'ite cleric, Grand Ayatollah Ali al-Sistani, is among those leaders who have called on the Shi'ite majority to participate, saying they should support deputies who can be trusted. The Shi'ite-based United Iraqi Alliance, led by Prime Minister Ibrahim al-Ja'fari, is expected to garner the most votes.
Al-Ja'fari told reporters today after casting his ballot: "Today, Iraq is sending a message to the entire world -- that the people's will for democracy is stronger than tyranny. Democracy does not mean an election only. It means that the people doing the electing will keep a watchful eye, scrutinizing the conduct of the parliament and the conduct of the government."
Leaders of the Sunni minority have also urged Sunnis to vote, so as not to be left out of the governing process, as they were after their boycott of the January elections, which brought a transitional administration to power.
U.S. President George W. Bush praised the Sunni decision to join in. "Sunni Arabs who failed to participate in the January elections are now campaigning vigorously in this week's elections, and we can expect a higher turnout of Sunni voters," Bush said. "As Sunnis join the political process, Iraqi democracy becomes more inclusive, and the terrorists and Saddamists are becoming marginalized."
The Kurdish minority, based in the north of the country, are expected to back a combined Kurdish list, the Kurdistan Coalition List, which comprises the two big parties -- the Kurdistan Democratic Party and the Patriotic Union of Kurdistan -- as well as several smaller ones.
Another strong contender for seats in the National Assembly is the Iraqi National List, a grouping led by former Prime Minister Iyad Allawi.
Extremely tight security precautions are in place to prevent insurgents from disrupting the election. The country's borders have been closed, the carrying of firearms forbidden, driving bans are in place, and Iraqi and coalition troops are out in number.
The hope of many war-weary Iraqis -- that these elections will mark a true turning point -- were summed up today by one man on a Baghdad street.
"Iraqis are living a historical moment today -- that is, the elections," he said. "It is a great step that we are living. It is a civilized phenomena. We hope to live in stability and security in Iraq, in the north and in the south, east to west."
Today's poll is the third major vote to take place in Iraq this year. The first was on 30 January for an interim parliament. The second was a referendum on a new constitution on 15 October.
U.S. and Iraqi officials hope the polls will lead to a new Iraqi government that enjoys broad popular support and can quell the country's continuing insurgency.
(By RFE/RL correspondents Breffni O'Rourke and Charles Recknagel)
Coalition Images Of The Voting

The Multinational Force in Iraq on December 15, 2005, released official images of the voting in the legislative elections. To view a slideshow of their photographs,
click on the image.
To see RFE/RL's special webpage about the election, click here.