Italy To Withdraw 300 Troops From Iraq In January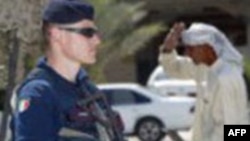 Italian troops in Iraq (file photo) (AFP) 15 December 2005 -- Italian Defense Minister Antonio Martino said today the country will reduce its troop force in Iraq by about 10 percent in January as part of its phased withdrawal from the country.
Martino told reporters Italy will withdraw 300 troops, which will decrease its military contingent to 2,600.
Italian Prime Minister Silvio Berlusconi said last month that all the troops will be withdrawn from Iraq by the end of 2006 in coordination with the Iraqi government.
Italy, which has the fourth-largest foreign contingent in Iraq, faces a general election next April where the Iraq war might become an issue. Most Italians and all opposition parties were opposed to the troop deployment.
The Italian government started withdrawing its forces in September, pulling an initial 300 soldiers from Iraq.
(Reuters/AP)