Some Violence, Opposition Mars Iraqi Poll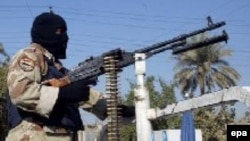 A soldier in Baghdad on 14 December (epa) Prague, 15 December 2005 (RFE/RL) -- There were reports of sporadic violence in several cities across Iraq as the polls opened on 15 December, international media reported.
At least one mortar round was reportedly fired near a polling center in Al-Ramadi in the early morning hours. Three mortar rounds were launched in Baghdad, one of which landed near the U.S. Embassy in the fortified green zone, wounding a few people.
Radio Free Iraq reported that there were several explosions in Baghdad on the eve of the election. Insurgents detonated a roadside bomb in Al-Jami'ah, and Iraqi police arrested two would-be suicide bombers, one of whom was identified as a non-Iraqi Arab. Explosions also rocked Al-Sadr city last night and this morning, and were heard in the Bab Al-Shaykh area of the capital.
In Mosul, several blasts were heard throughout the city on 15 December, and one mortar landed outside a polling center, killing a guard and wounding a police officer. Mortars were also reportedly launched in the Sunni-stronghold cities of Samarra and Tikrit.
Meanwhile, Arab media reports indicated there were some problems at polling centers in Sunni-populated cities.
Shortage Of Ballots
Al-Jazeera television reported that some polling centers in Al-Fallujah were short of ballots and ballot boxes. One journalist interviewed by the satellite news channel claimed that some voters missed their opportunity to cast ballots due to the shortage, but voter turnout was reported high in the city. The news channel also reported a shortage of ballots in nearby Al-Ramadi.
Other Sunni Arab areas reported difficulties as well, according to Al-Jazeera, which reported that election observers from the Iraqi Accordance Front were not allowed to carry out their duties in three towns. The news channel said at least three members of the front were arrested by security forces at one polling center.
Kurdish, Sunni Opposition
In Mosul, dozens of Kurds threatened to set fire to polling stations in the city unless election officials allowed them to cast their ballots there, Reuters cited Ninawah Deputy Governor Khasro Goran as saying.
The Kurds were reportedly displaced from the city over the past 2 1/2 years as a result of insurgent threats. The Iraqi election commission (IECI) had reached an agreement with Kurdish President Mas'ud Barzani to place ballot boxes in suburban areas of Mosul to allow the displaced Kurds to vote.
Goran accused the IECI of deliberately removing hundreds of Kurdish names from the voter lists and said he intended to file a formal complaint with the Iraqi cabinet.
A 14 December Internet statement attributed to Abu Mus'ab al-Zarqawi's Tanzim Qa'idat Al-Jihad fi Bilad Al-Rafidayn (Al-Qaeda Organization of Jihad in the Land of the Two Rivers) claimed the group has launched a new conquest in Iraq aimed at shaking "the bastions of the infidels and the apostates and to ruin for them the 'democratic' wedding of heresy and immorality."
The statement claimed the "brigades of the mujahidin" had begun launching attacks against U.S. and Iraqi forces in "the caliphate of" Baghdad and in the Al-Anbar, Diyala, Mosul, and Salah Al-Din governorates. The statement listed several sites that the group claims to have targeted. Those purported attacks have not been independently verified, however.
Al-Zarqawi's group was a signatory to a joint statement signed on 12 December by five Salafist jihadist groups in which the groups deemed the election "un-Islamic" and voiced their opposition to it.
Meanwhile, an Internet statement attributed to the outlawed Ba'ath Party on 10 December called on Ba'athists to stay away from the polls on election day. The statement warned voters not to be fooled by candidates "who brag about their prior nationalistic history or former Ba'ath Party" membership. The statement added that anyone involved in Iraq's politics is opposed to the national resistance, and hence the Ba'ath Party.
Coalition Images Of The Voting

The Multinational Force in Iraq on December 15, 2005, released official images of the voting in the legislative elections. To view a slideshow of their photographs,
click on the image.
To see RFE/RL's special webpage about the election, click here.