Bosnia Charges 11 People Over Srebrenica Massacre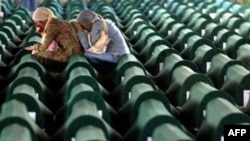 Bosnian Muslim women mourn at a mass burial of victims of the Srebrenica massacre, July 2005 (AFP) 15 December 2005 -- Bosnia's special war crimes court today announced that it has charged 11 people in connection with the killing of about 8,000 Muslim men and boys in 1995 in the town of Srebrenica.
Court spokeswoman Edita Pejovic declined to reveal the identities of the detainees.
The U.N. war crimes court in The Hague has already charged 19 people in connection with the massacre.
Six of these have been convicted and 10 others, including ex-Yugoslav President Slobodan Milosevic, are on trial or awaiting trial.
The massacre's alleged masterminds, the Bosnian Serb wartime leader Radovan Karadzic and his military commander Ratko Mladic, remain at large.
(Reuters)

SUBSCRIBE
For a regular review of politics, media, and RFE/RL broadcasts in the western Balkans,
subscribe to "RFE/RL Balkan Report."