Agencies report the trial, which began today, was suspended over whether the law was appropriately applied in the case.
The French news agency AFP reports the trial is suspended until 7 February.
The case has drawn international attention, with the Human Rights Watch group calling on the Turkish judiciary to promptly acquit Pamuk, and the European Union warning that the case marks a test of Turkey's commitment to freedom of expression.
Pamuk told a Swiss magazine in February that 1 million Armenians had been killed in World War I massacres and 30,000 Kurds had also died in a separatist conflict in Turkey in recent decades.
Pamuk, author of books including "Snow" and "My Name Is Red," could face up to three years in prison if convicted.
Turkey in October opened talks to join the European Union, but the EU has warned that talks could be suspended over Turkish violations of human rights.
(AP/AFP)
Examining History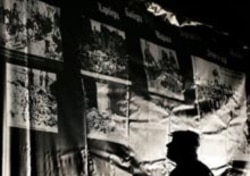 CALL IT GENOCIDE? Questions surrounding the mass killings of Armenians at the beginning of the last century continue to dominate relations between Armenia and Turkey. In April, Ankara proposed conducting a joint Armenian-Turkish investigation into the mass killings and deportations of Armenians during World War I.
Turkish leaders suggested that the two countries set up a joint commission of historians to determine whether the massacres carried out between 1915 and 1917 constituted genocide. Armenia, however, insisted it would continue to seek international recognition and condemnation of what it says was a deliberate attempt at exterminating an entire people....(more)
See also:
Armenians Mark 90th Anniversary Of Start Of Massacres
Armenia: Tragedy Remains On Europe's Political Map
ARCHIVE: For a complete archive of RFE/RL's coverage of Armenia, click here.