Prague, 16 December 2005 (RFE/RL) -- Yesterday's voting was mainly peaceful, and electoral officials estimated that turnout could be as high as 70 percent or more.
With Iraqi officials counting millions of ballots, U.S. President George W. Bush has described the vote as "historic."
An Example For Arab States
Reaction in the Arab world was mixed, Nabil Abdel Fattah, deputy director of Cairo based Al- Ahram Center for Strategic and Political Studies, told RFE/RL. He said different political groups in Egypt -- the largest Arab state -- are reacting differently to the vote, although their reaction is largely favorable.
He says Egyptian reformers see the vote as an example for the rest of the Arab world to follow.
"The political forces [in Egypt] which support democratization of Iraq to be changed to a state based on the will and choice of voters, generally belong to liberal, or to say more precisely, to the semi-liberal current in Arabic world," Fattah said. "They consider the Iraqi elections as an example to be followed or at least marketed or generalized in different Arab [countries] with dictatorship-type systems."
Election Under Foreign Occupation
Fattah says more conservative politicians agree that the vote is an important step, but stress that the elections took place under foreign occupation.
"The Muslim Brotherhood criticizes the American and British policy in Iraq, but stresses the importance of Sunni voting," he said. "But generally, they welcome the idea of elections, though there are some Islamic groups with a different ideology than that of Muslim Brotherhood or other similar currents in the Arab world, which still reject the very idea of elections and are not welcoming them."
In Iraq, officials say more than 70 percent of the 15 million eligible voters turned out and participation was strong in Sunni areas, which had boycotted elections in January.
Baghdad resident Abdul Hadi Ubaid said he thinks the vote was free and fair.
"The election was free and democratic," Ubaid said. "We exercised our rights independently. We all gave our opinion in the election lists. It is our right to elect the list we want, like other elections around the world, without interference from a particular side."
U.S. President Bush welcomed the vote, saying on 15 December that it was a landmark for the country and an example for the region.
"This is a major step forward in achieving our objective, which is an ally -- having a democratic Iraq, a country able to sustain itself and defend itself, a country that will be an ally in the war on terror, and a country which will send such a powerful example to others in the region, whether they live in Iran or Syria, for example," Bush said.
Limited Violence
Violence was the main concern during the vote, but things remained largely calm.

Several explosions rocked Baghdad as polls opened, but violence overall was relatively light and didn't discourage Iraqis from voting.
The election was marked by tight security. Borders and airports were closed. And about 150,000 Iraqi soldiers and police officers were on patrol across the country, backed up by U.S. soldiers.
Iraqi Election Poster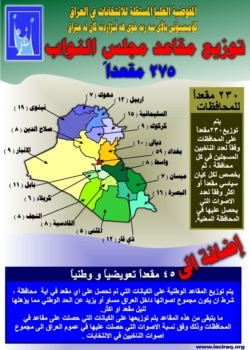 Click on the poster for an enlarged image.
The Iraqi Independent Electoral Commission issued posters in Arabic and the two dialects of Kurdish on the allocation of National Assembly seats by governorate for the 15 December National Assembly election. The poster says, "230 seats for the governorates, as well as 45 compensatory and national seats," while the corresponding map shows the breakdown of seats by governorate.
For more background on the election, click here .



For a complete archive of RFE/RL coverage, background, and analysis of the December 15, 2005, legislative elections, click here.