Ahmadinejad Orders 'Relaxing, Revolutionary' Music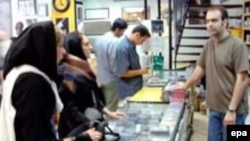 Iranian youths in a Tehran music store (file photo) (epa) 19 December 2005 -- Iranian President Mahmud Ahmadinejad has ordered Iran's radio and television network not to play Western and "decadent" music and instead to use "relaxing" and revolutionary-era tunes.
Iranian newspapers published on 19 December quote Ahmadinejad as saying in a presidential decree that the stress should be put on authorized and classical Iranian music.
Also prescribed are "relaxing themes and memorable music from the revolution."
In recent years, Iranian radio and television have broadcast shows with techno rhythms and instrumental versions of Western pop music.
(AFP)

SUBSCRIBE For regular news and analysis on Iran by e-mail,
subscribe to "RFE/RL Iran Report."