Kurdish Rebel Leader Warns Turkey Against Military Action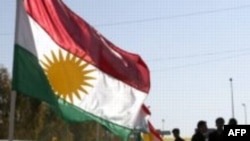 Iraqi Kurds with the Kurdish flag (file photo) (AFP) 19 December 2005 -- The outlawed Kurdistan Workers' Party, the PKK, says Turkey will court disaster if it launches a joint military action with the United States to clean up rebel camps in northern Iraq.
Turkish officials say thousands of PKK rebels have found refuge in northern Iraq since 1999 and have been infiltrating Turkey in increasing numbers this year to carry out anti-government attacks.
Ankara has long pressed Washington to act against the rebels and has threatened to carry out cross-border incursions.
Murat Karayilan, a senior PKK military commander and member of its collective leadership, said in an interview with the Kurdish news agency Firat that any attack would result in long-running resistance.
Some 37,000 people have been killed since the PKK took up arms for Kurdish self-rule in southeastern Turkey. The PKK is listed as a terrorist organization by Turkey, the United States, and the European Union.
(AFP)
Coalition Images Of The Voting

The Multinational Force in Iraq on December 15, 2005, released official images of the voting in the legislative elections. To view a slideshow of their photographs,
click on the image.
To see RFE/RL's special webpage about the election, click here.