Russian High Court Upholds Appointment Of Governors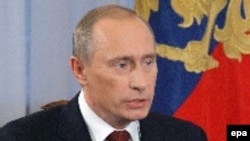 President Putin keeps the right to appoint Russia's governors (file photo) (epa) 21 December 2005 -- Russia's Constitutional Court today rejected a challenge to the new system introduced by President Vladimir Putin for choosing regional governors.
The Union of Rightist Forces and a Siberian geologist active in pro-democracy circles, Vladimir Grishkevich, had appealed to the court to rule on the constitutionality of the system.
The new procedure abolished direct elections for governors. Instead, it gave the president the right to propose candidates, who are then to be confirmed or rejected by regional legislature.
The Constitutional Court today ruled that the new system "cannot be seen as violating the principle of separation of powers or the principle of federalism."
The court refused to consider whether the president has the right to dismiss governors and dissolve regional legislatures if they refuse twice to confirm his nominee.
(Interfax/ITAR-TASS/AP)

SUBSCRIBE For news and analysis on Russia by e-mail,
subscribe to "RFE/RL Russia Report."