Moscow, 22 December 2005 (RFE/RL) -- In October, the Vatican's foreign minister, Archbishop Giovanni Lajolo, traveled to Moscow to meet with his Russian counterpart Sergei Lavrov and Metropolitan Kirill, the head of the Russian Orthodox Church's foreign-relations department.
This month, another Vatican official, Cardinal Renato Martino, was in the Russian capital to present the newly published Russian-language translation of the "Compendium of the Social Doctrine of the Church." This document lays out the Roman Catholic Church's teaching on social issues.
Сardinal Martino also met with Foreign Minister Lavrov and Metropolitan Kirill, and gave a press conference.
Pope Benedict XVI, speaking shortly after his election in April, had pledged to make dialogue with other religions his "primary task." And these two visits by high-ranking Vatican officials came as a clear indication that the Holy See has set its sights on improving its ties with Moscow's officialdom and the Russian Orthodox Church.
Relations between both churches, which split during the Great Schism of 1054, have been rocky. The Moscow Patriarchate regularly accuses the Catholic Church of poaching for converts in Russia and other traditionally Orthodox countries in the former Soviet Union.
The Vatican prelates' recent visits to Moscow have shown that the rift is far from being healed.
Pope Benedict XVI, speaking shortly after his election in April, had pledged to make dialogue with other religions his "primary task."
Speaking to reporters ahead of his trip to Russia, Archbishop Lajolo had voiced hope that his visit would help mend what he called the "difficult relations" between the two churches.
Back at the Vatican, however, he said it was still too early for a significant rapprochement.
Cardinal Martino, although a touch more diplomatic, appeared to share this view by the end of his Moscow visit.
Asked by reporters whether Benedict XVI would soon be able to visit Patriarch of Moscow and All Russia Aleksii II, Cardinal Martino indicated that such a meeting could not take place immediately.
"We begin with small steps. And then, definitely. I have already spoken on several occasions about the success of the cordial understanding that Metropolitan Kirill and I found during our meeting, and about the pleasure we had to see that there are things in common, that we can do more together," Martino said. "We have stated this collaboration, and this is a beginning -- after that, we'll see, and we hope that things will go very well."
Disputes with the Orthodox Church had barred Benedict's predecessor, the late John Paul II, from fulfilling his dream of visiting Russia following the 1991 collapse of the Soviet Union.
Cardinal Martino, who heads the Vatican's Pontifical Council for Justice and Peace, was himself scheduled to meet with Patriarch Aleksii II. But the meeting was abruptly canceled, with the Patriarchate citing "technical reasons." It was later announced that Aleksii II had fallen ill.
The Russian government has sought to ease the tensions between the two churches and pave the way for a papal visit to Moscow. President Vladimir Putin has personally backed the idea, and Foreign Minister Lavrov traveled to the Vatican in June.
Aleksii II, however, has consistently accused the Catholic Church of proselytizing in Russia and insisted that he will not meet the pope unless the Vatican curbs what he describes as its aggressive missionary activities in the country.
Reverend Wilfried Wehling is a German chaplain who has been in Russia since 1999. He says tensions largely stem from the fact that the Russian Orthodox Church views itself as the only legitimate representative of Christianity in Russia.
"It is clear that there is an effort to make the Orthodox Church the official Church," Wehling said. "There is a document that recognizes, together with the Orthodox Church, the Jews, the Muslims, and the Buddhists as Russia's four historical religious communities. And of course, as far as the Christians are concerned, the Orthodox Church sees itself as the representative of Christians."
The Russian government has sought to ease the tensions between the two churches and pave the way for a papal visit to Moscow.
Relations hit rock bottom in 2002, when Pope John Paul II raised the status of the Catholic Church in Russia by establishing four new permanent dioceses.
The Moscow Patriarchate reacted with outrage, calling the move an "unfriendly act" and canceling a meeting with a senior Vatican envoy, Cardinal Walter Casper.
The Vatican denies any wrongdoing, saying it is merely catering to Russia's small Catholic community.
Over the past few years, a number of Catholic representatives have been denied visas to Russia, prompting some observers to talk of "repression," or of a "campaign" against Catholics in Russia.
Archbishop Tadeusz Kondrusiewicz, the Roman Catholic Metropolitan in Moscow, says repression is too strong a term. But he tells RFE/RL that governmental and religious authorities in Russia have certainly created hurdles for the Catholic Church.
"There is definitely a very difficult bureaucratic aspect here -- there are problems with visas, problems on the field, problems to obtain churches," Kondrusiewicz said. "We were not included in the Interreligious Council [of Russia], they won't take us, we are constantly trying. They've also failed to include us into the Public Chamber. There are certain inconveniences, although I wouldn't call it repression."
Despite these difficulties, the Catholic Church continues to actively minister to its growing community and to conduct charitable activities throughout the country.
This activeness has led some observers to interpret the Russian Orthodox Church's repeated complaints against Catholics as a sign that it feels threatened by a better organized, better financed rival.
At any rate, the Vatican's current efforts to mend fences suggest that relations between both churches will now depend largely on the Russian Orthodox Church -- on its ability not only to put past grievances behind, but also to build up the loyalty of its believers.
Panel On Religious Freedom
Panel On Religious Freedom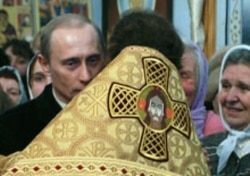 Russian President Vladimir Putin celebrating Orthodox Christmas (CTK, file photo)

RELIGION AND SOCIETY: On December 21, 2005, RFE/RL's Washington office hosted a panel discussion on issues related to religious freedom in the former Soviet Union. Panelists included CATHERINE COSMAN, a senior policy analyst for the U.S. Commission on International Religious Freedom; FELIX CORLEY, editor of the Forum 18 News Service; and JOHN KINAHAN, Forum 18 assistant editor.
Cosman argued in her presentation that the Russian Orthodox Church receives preferential treatment from the government. She also expressed concern about the estimated 50,000 skinheads active in Russia. Corley focused on Uzbekistan and Turkmenistan, arguing that many governments in the region "fear institutions they can't control." Kinahan's presentation concentrates on the Uzbek government's assertions that Islamist extremists were behind the May uprising in Andijon.
LISTEN
Listen to the complete panel discussion (about 90 minutes):
Real Audio
Windows Media
See also:
Central Asia: Region Returns To Muslim Roots
Central Asia: Regional Leaders Try to Control Islam
Unholy Alliance? Nationalism And The Russian Orthodox Church

THE COMPLETE STORY:
A thematic webpage devoted to issues of religious tolerance in RFE/RL's broadcast region and around the globe.