Romania Stations Fined For Showing Gun-Toting Santa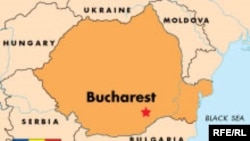 The stations showed footage of "Santa" with a submachine gun (RFE/RL) 22 December 2005 -- Two Romanian television stations have been fined for showing a man dressed as a gun-toting Santa Claus.
The stations (Antena 1 and National) were fined $1,700 for airing a publicity stunt by a local gun maker that showed "Santa" giving journalists submachine guns to test fire.
Ralu Filip, who heads the broadcast regulatory authority,said "children could understand from this that Santa is legitimizing the use of guns."
(AP)