Dutch Court Rules Genocide Occurred Against Iraqi Kurds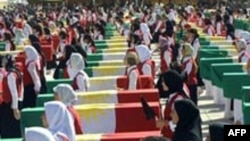 Victims of Hussein-era attacks against Kurds being prepared for reburial in October (AFP) 23 December 2005 -- A Dutch court ruled today that the killing of thousands of Kurds in Iraq in 1988 was an act of genocide.
The ruling came as part of a verdict in the case of Dutch chemicals merchant Frans van Anraat.
Van Anraat was sentenced to 15 years in prison today after the court found him guilty of complicity in war crimes for selling more than 1,000 tons of chemicals to Iraq used to carry out lethal gas attacks against Kurdish villages. He was acquitted of genocide charges.
Van Anraat maintained he was unaware the material would be used in chemical warfare.
It is the first court case to deal with the attacks against the Kurds.
The outcome of the Dutch trial is not expected to have a direct consequence on the ongoing trial in Baghdad of former Iraqi leader Saddam Hussein.
(AFP/Reuters/AP)
Saddam Hussein In Pictures

A slideshow of photographs from Saddam Hussein's years ruling Iraq through his downfall.