In an early morning attack in Buhriz, insurgents opened fire on a checkpoint, killing five Iraqi police and wounding four others. Police said six guerrillas were killed when police officers returned fire.
In the village of Dhabab, near Ba'qubah, gunmen killed five soldiers.
A series of vehicle bombs also killed at least five people in Baghdad.
The violence came as the vote count continued following parliamentary elections earlier this month.
Preliminary results released today from ballots cast by expatriate Iraqis showed the Kurdistan Coalition List with 36 percent of the vote and the Shi'ite United Iraqi Alliance winning 30 percent.
The secular Iraqi National List of former Prime Minister Ayad Allawi, a Shi'a, garnered 11 percent of the expat vote, while the main Sunni Arab Iraqi Accordance Front took 5 percent.
(compiled from agency reports)
Iraqi Election Poster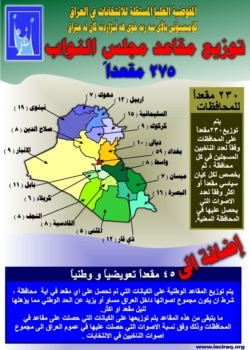 Click on the poster for an enlarged image.
The Iraqi Independent Electoral Commission issued posters in Arabic and the two dialects of Kurdish on the allocation of National Assembly seats by governorate for the 15 December National Assembly election. The poster says, "230 seats for the governorates, as well as 45 compensatory and national seats," while the corresponding map shows the breakdown of seats by governorate.
For more background on the election, click here .



For a complete archive of RFE/RL coverage, background, and analysis of the December 15, 2005, legislative elections, click here.