The renaissance of Russian cinema in 2005 also served to benefit Russian television, a result of President Vladimir Putin's decision three years ago to restore state support for the decaying film and television industry. Since then, Russian studios have produced more than 150 films and serials.
This turnaround -- coming after the industry was on its deathbed -- has placed it on par with developing producers such as Argentina, Brazil, and Mexico, which have found a niche for low-budget soap operas.
An Eye On History
In addition to positioning itself in the romance genre, the Russian entertainment industry has found success with criminal underworld and patriotic-historical programs. Examples of the latter are often devoted to the country's military past, such as the mini-series "Turkish Gambit" and "Bayazet," both centered on the 19th-century Russo-Turkish War, or "Demise of Empire" about World War I.
In the tradition of communist-era glorification of chekist agents and their role in the first years of the Soviet regime, 2005 saw the emergence of programs highlighting the efforts of the Foreign Intelligence Service (SVR) to combat "international terrorists."
Historical documentaries were also in the spotlight, with the three-part "Brezhnev" receiving the national television award TEFI in November. A documentary depicting former Soviet leader and KGB Chairman Yurii Andropov as an early reformist was also aired.
Not So Funny
Another trend of 2005 was the rise in the number of comedy shows, accounting for up to 50 percent of prime-time broadcasting on weekends. If television bosses thought that airing lighter programs could help raise Russians' spirits, they were mistaken. The move provoked numerous protests from all corners of society accusing TV executives of attempting to make "morons of the population."
But while entertainment programs might dominate the airwaves, television's role as an efficient vehicle for communication and political influence in a huge country with great ethnic and social disparity was not forgotten.
Nikolai Popov, research director of the ROMIR Monitoring polling center, told RFE/RL's Moscow bureau in September that for 79 percent of Russians, three national networks -- Channel One, RTR, and NTV -- are their main sources of information on the outside world. According to a ROMIR poll, just 14 percents of Russians read nationally distributed print media -- and just 3 percent trust it. By contrast, national television has the highest level of public trust, 44 percent, followed by national radio at 8 percent and the Internet at 5 percent.
A Media-Savvy Kremlin
The Kremlin is well aware of the high status afforded television, and took steps in the past year to increase its influence on the national networks as a means of advancing its political agenda.
It is telling that President Vladimir Putin is increasingly afforded near-hero status on Russian information programs, which have all become extremely loyal not only to him personally, but to his entourage.
In an interview with RFE/RL's Russian Service in October, Eduard Sagalaev, the president of the National Association of Television Broadcasters, shared a personal experience that characterizes the extent of the networks' servility. "I can understand why Russian television is so loyal to Putin," Sagalaev recalled an American friend as telling him. "But I cannot understand why it treats his Labrador [his dog Koni] the same way."
The REN-TV Crackdown
The Kremlin continued in 2005 to tighten its grip on political coverage on national television networks by appearing to crack down on independent-minded journalists. In this regard, the Kremlin's main target became REN-TV, which until recently had widely been considered the only remaining independent liberal television channel in Russia.
Irena Lisnevskaya and her son Dmitrii, who together owned 30 percent of the company, founded the channel in 1997. Another co-owner was Unified Energy Systems (EES), headed by Anatolii Chubais, whose good relationship with Putin had helped the channel preserve its liberal orientation.
REN-TV took advantage of its independent status by reporting critically on Kremlin policies on a number of issues -- including the war in Chechnya, the investigation into the Beslan tragedy, the Yukos case, and corruption in the government. But this deviation from the general political line was not to be tolerated by the Kremlin for long. In July 2005, Chubais announced that EES intended to sell its stake in REN-TV, as it did not "correspond to the company profile," rbc.ru reported on 12 July. EES's shares were purchased by Severstal, the metallurgic holding owned by Aleksei Mordashov, a magnate loyal to the Kremlin and the pro-presidential Unified Russia party.
The fall of REN-TV effectively leaves no resistance to Moscow's manipulation of Russia's television airwaves.
The same day, it was announced that the Lisnevskii stake in REN-TV was to be sold to the Luxembourg-based RTL Group, which is part of the German multimedia giant Bertelsmann. Presumably as a consolation prize, Irena Lisnevskaya and REN-TV producer Lev Nikolaev received a TEFI for their contribution to the development of national television.
'24' Shutdown
In November, it became clear that the new management did not plan to uphold its promises not to alter the channel's editorial policy when Olga Romanova, anchorwoman of the main information program "24," was taken off the air for three months. Romanova sued the company for violating her journalistic rights, and subsequently left the company together with a group of editors, anchors, and others who submitted their resignations.
The development was the icing on the cake in terms of the Kremlin's efforts to subordinate independent television outlets, as the fall of REN-TV effectively leaves no resistance to Moscow's manipulation of Russia's television airwaves.
Olga Romanova And REN-TV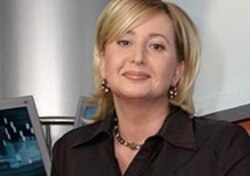 Olga Romanova (courtesy photo)

Just when it seemed impossible for Russian television to become any less controversial, the new owners of REN-TV announced on November 28, 2005, that they were pulling popular and respected journalist OLGA ROMANOVA off the air for at least three months. REN-TV is considered by many to be the last remaining independent television stations with a national reach. Romanova has vowed to fight the station's decision, saying she will take the case to court...(more)
See also:
Interview: REN-TV Editor In Chief Discusses Resignations