Beslan Investigation Clears Security Forces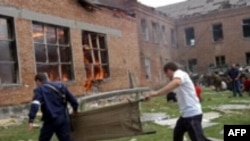 Rescuers entering the school (file photo) (AFP) 27 December 2005 -- An investigation into last year's Beslan school siege has concluded that Russian police and security forces bear no blame for the deaths of more than 330 people.
On 1 September 2004, armed militants with alleged links to the Chechen separatist leadership seized Beslan's School Number One in North Ossetia. The three-day crisis ended with a Russian security assault in which mostly children were killed.
Deputy Prosecutor General Nikolai Shepel, who headed an investigation by prosecutors into the raid, said today the probe has uncovered no mistakes in the authorities' handling of the crisis.
Victims' relatives have reacted angrily to his statements.
The head of the Beslan Mothers' Committee, Susanna Dudiyeva, said the investigation's main aim was to cover up for top officials.
An interim report from a separate parliamentary inquiry is expected to be announced tomorrow.
(AFP/AP)