Rights Watchdog Criticizes Closure Of Belarusian Paper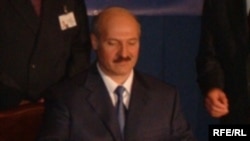 A number of independent newspapers have been closed under the Lukashenka regime (RFE/RL) 28 December 2005 -- Reporters Without Borders has criticized the closure of an independent newspaper in Belarus.
The international media monitoring group accused the government of President Alyaksandr Lukashenka of dealing a "last fatal blow" to the trade union newspaper "Solidarity," which printed its final edition last week.

Reporters without Borders accused Lukashenka of trying to silence the independent media ahead of presidential elections in March.

Editors at "Solidarity" said they were forced to close after the government took a series of measures against the paper, including canceling a contract with the state distribution agency.
Seperately, Belarus prosecutor Sergei Ivanov said today the investigation into the killing of an opposition journalist had been halted because of a lack of suspects.
Veronika Cherkasova was stabbed to death in her home in October 2004. She was working for Solidarity.
(AFP/AP)