Cheap Gas Is Russia's Reward For Loyalty, Says Lukashenka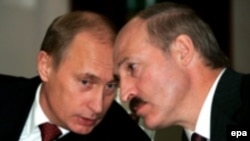 Belarusian President Lukashenka (R) with his Russian counterpart, Vladimir Putin (file photo) (epa) 29 December 2005 -- Belarus President Alyaksandr Lukashenka has suggested his country got a bargain deal on gas deliveries from Russia because Minsk is a loyal ally.
In an interview with the Russian-government daily "Rossiiskaya gazeta," Lukashenka said he was not surprised that Russia was seeking to quadruple the price of its gas deliveries to Ukraine.
He said this was a direct consequence of Ukraine's orientation toward the West and what he called Kyiv's "unfriendly" policies toward Russia.
While Russia is seeking to charge Ukraine some $230 per 1,000 cubic meters of gas from January 2006, Belarus will receive gas from Russia for just $47 per 1,000 cubic meters.
(Reuters)
RFE/RL Belarus, Ukraine, And Moldova Report

SUBSCRIBE For weekly news and analysis on Belarus, Ukraine, and Moldova by e-mail,
subscribe to "RFE/RL Belarus, Ukraine, And Moldova Report."