Polish General To Lead Iraq Multinational Contingent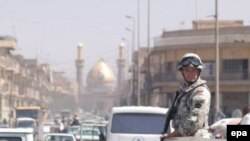 Polish peacekeepers in Karbala (file photo) (epa) 3 January 2006 -- A Polish general will next month take over command of the multinational forces in central and southern Iraq.
Poland's Defense Minister Radoslaw Sikorski said today that General Edward Gruszka would command some 2,000 soldiers from 12 countries.
The troops are based in the city of Al-Diwaniyah, south of Baghdad, in a densely populated, predominantly Shi-ite region.
Polish President Lech Kaczynski last month gave his authorization for Polish troops to remain in Iraq until the end of 2006.
(AFP)