Russia: Moscow Uses Different Lever Of Influence, Same Message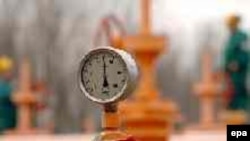 The Kremlin's new weapon? (epa) Russia's dispute with Ukraine and subsequent gas cutoff has been seen by many analysts as Moscow's attempt to pressure Ukraine in the run-up to its 26 March parliamentary elections.
If true, it wouldn't be the first time that Russia has applied political pressure on Ukraine during an election campaign.

In the fall of 2004, Moscow openly intervened in Ukraine's presidential election, with Russian President Vladimir Putin directly appealing to the Ukrainian electorate to support pro-Moscow candidate Viktor Yanukovych. It was to no avail, with Yanukovych's rival Viktor Yushchenko taking a starring role in the Orange Revolution and winning the "battle for Ukraine."

Key Elections
The upcoming elections in Ukraine are no less crucial than the election in December 2004.

Ukraine will this year be transformed from a presidential into a parliamentary republic due to a constitutional amendment adopted over a year ago.

And, in geopolitical terms, Ukraine is still a country to be won or lost. One Kremlin consultant, Sergei Markov, said on 28 December that "In reality, Ukraine is choosing not between politicians or electoral blocs, but between NATO and the Single Economic Space with Russia," regnum.ru reported.

Whereas the Kremlin openly supported Yanukovych in 2004, its backing of President Yushchenko's challengers will be less explicit this time around.

Political Lever
Many analysts believe that the Kremlin is banking on the "gas weapon" being the perfect political lever to influence the electorate in eastern and southern Ukraine, which traditionally supports Yanukovych and candidates from the Party of Regions and other leftist opposition parties.

Most of Ukraine's heavy industry is located in the south and east of the country, including the huge metallurgic and chemical enterprises that account for 40 to 60 percent of Ukraine's export production and are strongly dependent upon natural gas.

Cutting off the gas supply through Gazprom pipelines -- which also transport Turkmen gas to Ukraine -- could result in a mass industrial slowdown and subsequent social unrest.

Such unrest would likely manifest as anger toward Yushchenko. "What else," said Aleksei Dobychin, the leader of pro-Moscow organization Proryv in Crimea, in mid-December, "but gas could convince the people of Ukraine that it's better to be a friend of Russia than the European Union and NATO."

Primacy Of Politics
Russia has appealed to Western public opinion by saying that economic reasons are behind the proposed fourfold price rise. But many pro-Kremlin commentators have highlighted what they see as the prevailing political aspects. Speaking on a Channel One talk show "Vremena" on 25 December, the pro-Kremlin political scientist Andranik Migranyan said that Russia should not be ashamed of using energy supply as a "trump card."

On the same show, Vitalii Tretyakov, a leading magazine editor, said that the "gas war" is a "joint multi-move strategy from the Kremlin and Gazprom." And, Channel One commentator Mikhail Leontiev, known for his imperial sentiments, said that the "gas cutoff is retribution for the Orange Revolution," km.ru reported.

The timing of the "gas attack" perhaps leaves little doubt of the primacy of political aims. On 1 January, Austria took over the rotating chairmanship of the European Union from Britain, which does not use Russian gas. Austria is one of the biggest Western European users of Russian gas, with about 74 percent of its consumed gas coming from Russia.The Kremlin is perhaps hoping to stress the energy dependence of the EU's biggest members -- Germany, France, and Italy -- on Russia.

The timing of the gas cutoff also comes shortly after Putin announced on 22 December Russia's ambitions "to became a world energy superpower." As the chair of the Group of Eight (G-8) leading industrialized countries starting on 1 January, Russia is also planning to propose its own ambitious energy policy agenda.

Political And Economic Gains
But has Russia gone too far? Some Kremlin strategists seem to think that excessive pressure on Ukraine could bring Moscow more losses than gains. For example, speaking at a 28 December press conference, Kremlin strategist Markov called on the Kremlin to postpone the gas issue until after the Ukrainian elections in order not to provoke anti-Russian sentiments among the Ukrainian public and thus consolidate Yushchenko's support, regnum.ru reported. "By exacerbating conflict with Ukraine, Russia could lose one of its main strategic allies forever," he said.

Perhaps Putin was listening. On 31 December, he made Ukraine a televised offer to postpone the price rise until 1 April, if Ukraine accepted Gazprom prices afterward. However, Ukraine rejected the offer.

It is difficult to predict how long the Russian-Ukrainian "gas war" will last, but if the present political trends will prevail it is most likely that Russia will benefit more economically than it will politically.