Iran Appeals To Pakistan Over Kidnapped Soldiers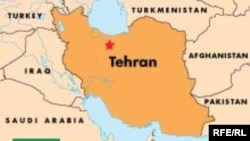 Iran believes the kidnapped soldiers may be in Pakistan (RFE/RL) 3 January 2006 -- Iran is seeking Pakistan's help in locating nine Iranian soldiers who it said were kidnapped and might have been taken into Pakistani territory.
The soldiers were reported to have gone missing on 1 January from their post near the Pakistani border. A caller speaking for a little-known Sunni Muslim rebel group (Jundollah, or God's Soldiers) told the Al-Arabiya television station that it wants Tehran to release 16 of its jailed members in exchange for the soldiers.
A Pakistani Foreign Office spokeswoman said today Islamabad had assured Iranian authorities of full cooperation.
She added that Pakistan didn't have any indication to suggest that the soldiers had been taken into its territory.
(dpa)


SUBSCRIBE For regular news and analysis on Iran by e-mail,
subscribe to "RFE/RL Iran Report."