Blizzards Force Evacuation Of 97,000 People In Xinjiang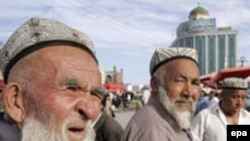 Uighurs in China's Xinjiang Province (file photo) (epa) 5 January 2006 -- Heavy snowfall in Xinjiang, a largely Muslim region of western China, has forced some 97,000 people to leave their homes.
Most people were forced to flee after their homes collapsed under the weight of snow, a local official said. Worst affected is the Altai region of northern Xinjiang.
The situation is not expected to improve any time soon as snow is continuing to fall in the region.
(AFP)
RFE/RL's World: 2005 In Pictures


A slideshow of images related to the top news stories of 2005 from throughout RFE/RL's broadcast region with links to RFE/RL's reporting.
See also:
2005 In Review: Central Asia Witnesses Revolution, Continued Crackdown
2005 In Review: Does The Presence Of Western Election Observers Make A Difference?
2005 In Review: The Geopolitical Game In Central Asia
2005 In Review: Migrants, Refugees Victims Of Incoherent Laws In Post-Soviet States
2005 In Review: The Transformation Of Television In Russia
2005 In Review: Russia's Centralization Gathers Pace
2005 In Review: A Year Of Hopes, Disappointments For Afghans And Iraqis