Sharon Stable After Second Operation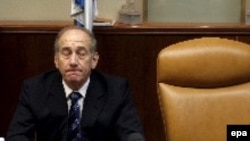 Acting Prime Minister Ehud Olmert sits next to Sharon's empty chair during an emergency cabinet meeting yesterday (epa) 6 January 2006 -- Surgeons treating Israeli Prime Minister Ariel Sharon say he is in stable but critical condition after another round of surgery today to stop fresh bleeding in his brain.
Doctors began the emergency surgery this morning to stem the bleeding and heightened pressure on Sharon's brain.
Shlomo Mor-Yosef, director of Jerusalem's Hadassah hospital, says Sharon's condition is better now than it was yesterday, but is still critical.
"The prime minister now is transferring to the intensive care unit. I would like to say that even though the result of the CAT scan are better than yesterday, the condition is still critical."
Doctors say Sharon is being kept in a medically-induced coma for at least two more days.
The operation was Sharon's second bout of surgery in two days, after he suffered a massive stroke and brain hemorrhage on 4 January. Doctors said earlier it was unlikely Sharon will ever return to work.
(agencies)