Muslim Pilgrims Begin Hajj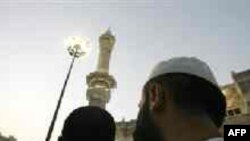 Muslim pilgrims prepare for sunset prayers at the Grand Mosque in Mecca on 5 January (AFP) 8 January 2006 -- More than 2 million Muslims have begun the annual hajj pilgrimage in Saudi Arabia, starting the journey from the holy city of Mecca to the valley of Mina.
The pilgrims set out for Mina after dawn prayers. They are expected to pray, meditate, and spend the night in Mina before heading to Mount Arafat.

The five-day sacred hajj ritual follows a schedule of rites set out by the Prophet Mohammad before his death.

Saudi authorities say some 60,000 members of security forces are available to handle any emergencies that might arise during the hajj.
Seventy-six people were killed in Mecca on 5 January when their hostel collapsed.

Every able-bodied Muslim is required to make the hajj pilgrimage at least once in his or her lifetime, according to Islam.

(AP/AFP/Reuters)