Valeriy Kostenko, Mykola Protasov, and Oleksandr Popovych appeared before the Kyiv Appeals Court. Citing the "tense atmosphere" in the courtroom, presiding judge Iryna Grygoryeva ordered a 45-minute recess shortly after the session began.
Reporters from Kyiv say dozens of relatives, lawyers, and prosecutors were packing the tiny courtroom, which was too small to hold the crown of reporters covering the event.

Gongadze's widow Myroslava, who now lives in the United States, is attending the proceedings. Addressing reporters outside the courtroom, she said those truly responsible for her husband's killing are still on the loose.

"I don't think this [trial] is enough, because these [three] people had no personal motives for killing Heorhiy. They were carrying out a criminal order. They had the option of not carrying it out. THey could have saved their honor and they could have refused to follow the order but they killed Heorhiy and they must be punished," she said.
"The next step will be when the organizers of this crime will be brought to justice," she said. "They are known, and they must be punished as well as the people sitting in the dock today."

A prime suspect in the case, former Interior Ministry General Oleksiy Pukach, is still at large. Many in Ukraine suspect then President Leonid Kuchma of having orchestrated the killing, a charge that Kuchma denies.

Audio recordings secretly made in Kuchma's office by a former bodyguard, Mykola Melnychenko, contain a passage in which a voice that is reportedly Kuchma's suggests that Gongadze be "removed and thrown to the Chechens."

(compiled from news agency and local television reports)
The Gongadze Case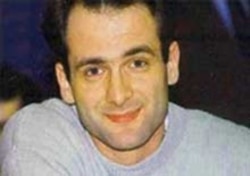 Heorhiy Gongadze was neither the first nor the last journalist to be killed in Ukraine, but it is his death that has become synonymous with the pressure exerted on journalists by the administration of former President Leonid Kuchma. Within weeks of his death, secretly recorded tapes emerged that implicated Kuchma in Gongadze's death. Kuchma has always denied any involvement, but the twists and turns of the protracted investigation -- and its failure to produce results -- merely fueled the speculation. The demonstrations triggered by Gongadze's death galvanized opposition to the Kuchma administration.
President Viktor Yushchenko, prime minister at the time of Gongadze's death and leader of the Orange Revolution, has said that resolving the Gongadze case is a "matter of honor." The journalist's alleged killers are now on trial in Kyiv. But a trail of deaths, including one since the Orange Revolution, raise doubts about whether it will ever be certain who ordered Gongadze's murder.
For a timeline of the Gongadze case, click here.