Rights Group Calls On Georgia To Release Chechen Activist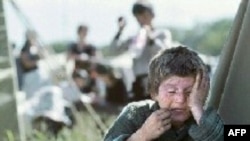 Chechen refugees in a camp in the Russian republic of Ingushetia (file photo) (AFP) 10 January 2006 (RFE/RL) -- The Geneva-based World Organization Against Torture (OMCT) is calling for the immediate release of a Chechen refugee detained in December in Georgia on terror-related charges, RFE/RL's Georgia service reports.
Magomed Makhaev, the founder of a Georgian-based nongovernmental organization known as Imedi (Hope), was arrested on suspicion of ties with the international terrorist network Al-Qaeda. A municipal court in the Georgian capital Tbilisi remanded him in jail for three months on 28 December.
OMCT today said in a statement that it feared for Makhaev's physical and psychological well-being.
Georgian authorities say Imedi is also suspected of embezzling $13,000 and forging official documents.
Imedi has providing humanitarian aid to Chechen refugees in Georgia since 2003.
Makhaev's Georgian lawyer Davit Managadze said recently his client faced up to 12 years in jail if found guilty.
(with material from OMCT statement/Novosti Gruziya)


RFE/RL's complete coverage of Russia's war-torn Republic of Chechnya.
CHRONOLOGY
An
annotated timeline
of the Chechnya conflict.