Russia To Reopen 1994 Case Of Murdered Reporter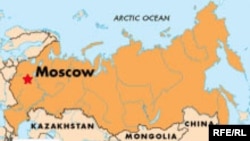 The 11-year-old case ended with an official apology to one of the accused suspects (RFE/RL) 10 January 2006 -- The Russian Prosecutor-General's office today said it would launch a new probe into the 1994 murder of investigative reporter Dmitrii Kholodov even though it considers the case solved.
Prosecutor-General Vladimir Ustinov's spokeswoman, Natalia Vishnyakova, told the Ekho Moskvy radio station judicial authorities were insisting that a new investigation be conducted. Yet, she said prosecutors believe that the army officers tried over the case are guilty.
Kholodov, a "Moskovskii komsomolets" correspondent who specialized in military corruption, was killed in October 1994 by a booby-trapped briefcase.
Six army officers were charged with involvement in the killing, but were twice acquitted by military courts.
On 15 December a Moscow military court ordered prosecutors to apologize publicly to one of the defendants -- Colonel Pavel Popovskikh -- and told the Russian Finance Ministry to pay him 2.1 million rubles ($73,000) in damages.
(Ekho Moskvy/lenta.ru)