After taking the oath in the Kazakh capital Astana, Nazarbaev said his victory confirmed popular support for his policies of stability and economic growth.
The 4 December ballot, which Nazarbaev won with 91 percent of the vote, was heavily criticized by Western observers as flawed.
A steel worker by trade, the 65-year-old Nazarbaev has ruled Kazakhstan since 1989. A 1995 referendum that was roundly criticized by the international community extended Nazarbaev's term in office and handed him greatly expanded powers.
Kazakh authorities impose strict curbs on the media and have been accused of egregious human rights violations.
In his inauguration speech, Nazarbaev said Kazakhstan attached "special importance" to its relations with its neighbors in Central Asia. "It is my profound belief that the security of the region demands a qualitative breakthrough, with very deep integration of our states."
Nazarbaev also vowed to strengthen ties with Russia, China, the United States, the European Union, and the Muslim world.
The inaugural ceremony at the presidential palace in Astana was attended by top foreign leaders. Guests included Russian President Vladimir Putin, Ukrainian President Viktor Yushchenko, Georgian President Mikhail Saakashvili, and Afghan President Hamid Karzai. Also attending were the leaders of Croatia, Uzbekistan, Kyrgyzstan, and Tajikistan.
(AP/AFP)
The Voting In Images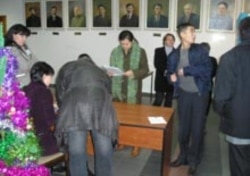 Workers at Almaty polling station No. 310 registering election monitors prior to the opening of voting on December 4


To see more images collected by RFE/RL's Kazakh Service during the voting on December 4,
click here.



RFE/RL's complete coverage and background of Kazakhstan's presidential election on December 4, 2005.