Yushchenko said the recent dispute could be useful as the two countries have adopted principles that are comprehensible and "clear."
"We have been through quite a difficult period in recent months, particularly in the past couple of months," Yushchenko said, "but I think this period was beneficial for us. We have reached principles that we understand and we can present to other parties, principles that are clear…This may have been one of the most difficult episodes in our relationship so I would like to congratulate both sides that it was possible to resolve this."
Putin called the resolution of the gas dispute "correct and mutually beneficial" and said the two countries should now focus on issues other than energy.
The dispute over gas prices plunged relations between Russia and Ukraine to a new low. Under an agreement reached on 4 January, Ukraine will pay nearly twice as much for Russian gas as it did last year.
Anger over the deal resulted in the Ukrainian parliament voting on 10 January to bring down the country's government.
The two presidents met in the Kazakh capital Astana, where they attended the inauguration of President Nursultan Nazarbaev to a new, seven-year term.
(ITAR-TASS/Reuters/AFP/AP)

Interview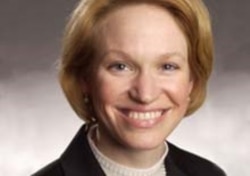 Celeste Wallander directs the Russia and Eurasia Program at the Center for Strategic and International Studies and is a CSIS senior fellow. Before joining CSIS, she was senior fellow at the Council on Foreign Relations in Washington, D.C., and associate professor of government at Harvard University. She is the founder and executive director of the Program on New Approaches to Russian Security. Her recent projects include work on U.S.-Russian security cooperation, the history of Russia and globalization, HIV/AIDS in Russia, and the 2004 Ukrainian presidential election. Among her books are "Swords And Sustenance: The Economics Of Security In Belarus And Ukraine" and "Mortal Friends, Best Enemies: German-Russian Cooperation After The Cold War." She is currently writing "Global Russia: Economics, Politics, And Security."
On November 29, 2005, she spoke with RFE/RL's Ukrainian Service about Russia's energy policies and how Moscow might be seeking to leverage its influence over its neighbors. Listen to the complete interview.
Real Audio Windows Media
To read a transcript of the interview,click here.
Related Articles: