Brussels, 11 January 2006 (RFE/RL) -- The incoming OSCE presidency-in-office, Belgium, made clear today that it will value compromise over confrontation among the 55 members of the organization.
Belgian Foreign Minister Karel de Gucht said this applies in particular to the so-called frozen conflicts in Moldova and the Caucasus.
De Gucht noted that in the context of each of these conflicts, Russia plays a very important role. Sometimes, he said, Russia is "rather reluctant" about the OSCE, adding that it is the presidency's task to find solutions without provoking confrontation.
No Tough Stance On Russia
However, de Gucht specifically ruled out a tougher stance vis-a-vis Russia. "I don't think it is the role of the presidency of the OSCE to judge upon the positions of the parties concerned," he said. "First of all it is the role of the presidency to try and find solutions for the frozen conflicts and especially for Transdniester and Moldova."
Addressing Transdniester, De Gucht said that it is not "obvious" how progress can be made. He said Belgium does not want to provoke a "political debate" on the issue, but sees its role in being a mediator.
De Gucht did criticize what he described as Chisinau's hardening position. "One of the complicating factors is the recent stance of Moldova on this, which is in fact asking for a unitary state," de Gucht said. "So to a certain extent they have been backtracking on this. And that's what I mean, that maybe we should try to find a solution to the military problems which is not necessarily linked to an immediate solution to the political problem itself."
De Gucht said Belgium will try to avoid what he called "theoretical debates" on Russia's so-called Istanbul commitments. This is a reference to an undertaking assumed by Moscow at the OSCE's 1999 Istanbul summit to remove its troops and munitions from Transdniester and Georgia by 2002. Russia has failed to meet that and subsequent deadlines.
The Belgian minister said today he is instead looking for "practical solutions," allowing for at least a "partial" removal of Russian forces from the breakaway region.
De Gucht noted that there are what he described as "several kinds of troops" in Transdniester. Some Russian troops remain to guard military stockpiles. Another Russian contingent complements a Ukrainian deployment watching over the unofficial truce between Chisinau and Tiraspol.
De Gucht said Russian troops would need to leave in several stages. This could be followed by a political settlement. He said that the ratification of the adapted Conventional Forces in Europe Treaty -- which Russia is pushing for -- is "intimately" linked to the resolution of the conflict.
De Gucht said he has had extensive contacts with his Russian colleagues, as well as with the Romanian and Ukrainian authorities. He said he will visit the region at the first opportunity.
South Ossetia
In the Caucasus, things, perhaps, look more hopeful.
De Gucht said today that for the first time in years, there are signs of "an opening" between Armenia and Azerbaijan on the dispute surrounding Nagorno-Karabakh. "I think we have a window of opportunity now, because there have been elections in Azerbaijan, there has also been a referendum in Armenia on a new constitution," he said. "Windows of opportunity are important in politics and we have signs from several capitals that there might be a chance that we get to a solution."
De Gucht said he will visit the region on 24-26 January to prepare ground for a meeting of the Armenian and Azerbaijani presidents in February.
He said there is hope that an "in principle" agreement could be reached at the meeting, which could then be put into practice later in 2006.
De Gucht said that once consensus is reached, the OSCE is prepared to send a force of observers, or even peacekeepers to the region.
"To deploy such a mission, either by the way of observers or by the way of a force that will be positioned in between the parties, that is of course a consensus that will have to be reached within the OSCE, but I think that if the heads of state should come to an agreement, the OSCE would also live up to its obligations," de Gucht said.
De Gucht said participants for such missions would not be hard to find, as the OSCE has been preparing its involvement for a "very long time."
De Gucht said he also sees "some positive signs" in South Ossetia, which won de facto independence from Georgia in the early 1990s: "Yes, I think that there are serious prospects of coming to a solution for the problem and in that case we would also be willing to organize a donor conference for South Ossetia in the course of our presidency."
The Belgian foreign minister said he recently met both the Russian and Georgian foreign ministers and believes "there is an opening there." However, he said he could not divulge any details.
Last month, Georgia urged the EU to raise the issue in its contacts with Russia.
Nagorno-Karabakh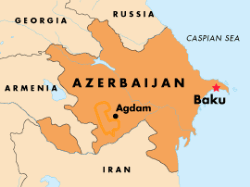 Click on the map to see an enlarged map of the Nagorno-Karabakh conflict area.
In February 1988, the local assembly in Stepanakert, the local capital of the Azerbaijani region of
NAGORNO-KARABAKH
, passed a resolution calling for unification of the predominantly ethnic-Armenian region with Armenia. There were reports of violence against local Azeris, followed by attacks against Armenians in the Azerbaijani city of Sumgait. In 1991-92, Azerbaijani forces occupied most of Nagorno-Karabakh, but the Armenians counterattacked and by 1993-94 had seized almost all of the region, as well as vast areas around it. About 600,000 Azeris were displaced and as many as 25,000 people were killed before a Russian-brokered cease-fire was imposed in May 1994.
For a complete archive of RFE/RL's coverage of the Nagorno-Karabakh conflict,click here.
Of particular interest:
2005 In Review: Conflicts In Caucasus Still Characterized By Gridlock
Nagorno-Karabakh President Expresses Optimism