Georgian Court Sentences Bush Grenade Suspect To Life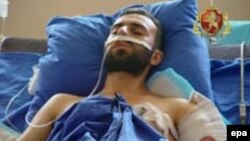 Vladimir Arutyunian (file photo) (epa) 11 January 2006 -- A Tbilisi court today sentenced to life in prison a man charged with throwing a grenade at visiting U.S. President George W. Bush last May and for killing a Georgian police officer while resisting arrest.
The 27-year-old man was identified as Vladimir Arutyunian, an ethnic Armenian Tbilisi resident.
The reading of the verdict took more than an hour. Arutyunian's lawyers said they would appeal against the sentence.
Although Arutyunian initially confessed in a police video to throwing the grenade with a view to hurting Bush, he pleaded not guilty at his trial.
Georgian prosecutors say the grenade Arutyunian tossed at Bush and his Georgian counterpart Mikheil Saakashvili during a 10 May public appearance did not go off for technical reasons.
(Prime News/Rustavi 2/AP)