The man returned to Belgium from Turkey on 12 January after visiting a region of that country hit by bird flu. He was admitted to a hospital the next day, a day after exhibiting flu symptoms.
Belgian Health Minister Rudy Demotte confirmed at a press conference today that tests showed the man did not have the H5N1 form of bird flu, which is potentially deadly to humans.
In Turkey, a woman who tested positive for bird flu was released from hospital today. The Anadolu news agency reported that the woman was the fourth person to be released from hospital after testing positive for the H5N1 strain of the virus and being treated successfully.
(Reuters, AP, dpa)
Affected Areas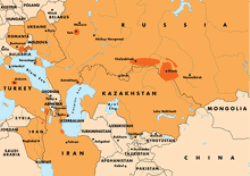 Click on the map for a closer view of the areas within RFE/RL's broadcast region where cases of diseased fowl have been confirmed. Last updated on February 20.


BIRD FLU, or avian influenza, continues to menace scattered areas from East Asia, where the disease first appeared, to Southeastern and Eastern Europe and beyond. Authorities around the world are bracing themselves -- and, more importantly, planning and taking measures to fight the disease wherever it appears.
Stories Of Particular Interest:
Bird-Flu Expert Discusses Issue Of Migratory Birds
Bird Flu: As European Worries Grow, Some See Benefits In Alarm