Final Results Of Iraqi Vote Due On 20 January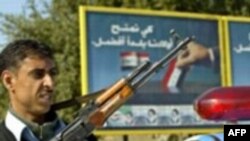 Scene from Iraq's parliamentary election campaign (file photo) (AFP) 16 January 2006 – A member of Iraq's electoral commission, Adel al-Lamy, said the final results of the 15 December parliamentary elections will be published on 20 January.
Iraq's election commission has annulled results from 227 ballot boxes because of fraud. The final results will be based on a tally of some 31,000 ballot boxes.
Preliminary results suggest that a Shi'ite alliance will have about three-fifths of the seats in parliament. Sunni and Kurdish parties would each have about one-fifth of the total.
(Reuters, AP, AFP)