Britain's Foreign Office said the three countries -- often referred to as the EU-3 -- will call for an emergency meeting of the International Atomic Energy Agency's Board of Governors on 2 February, at which the resolution will be considered.
The announcement followed a meeting of diplomats from Germany and the five permanent members of the Security Council in London today.
European Union foreign policy chief Javier Solana said he was "confident" that Russia and China would back the EU initiative.
Speaking earlier today, Russian President Vladimir Putin said Moscow's position on the Iranian nuclear issue is now "very close" to that of European countries and the United States.
China has not made a public statement.
Iran claims the right to pursue its civilian nuclear program and denies it is developing nuclear weapons.
(Reuters, AP)
Who's Got The Bomb?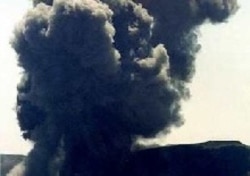 DECLARED NUCLEAR-WEAPONS COUNTRIES:
country warheads (est.) date of first test
United States 10,500 1945
Russia 18,000 1949
United Kingdom 200 1952
France 350 1960
China 400 1964
India 60-90 1974
Pakistan 28-48 1998
North Korea 0-18 2006
Notes:
Israel is widely believed to possess nuclear weapons, but it has not declared itself a nuclear-armed country.
South Africa constructed six uranium bombs but voluntarily dismantled them.
Belarus, Kazakhstan, and Ukraine all gave up the nuclear weapons that were on their territory when the Soviet Union collapsed in 1991.