Kyprianou told AP today that the bloc will give $120 million, $20 million more than initially pledged.
The World Bank hopes the meeting will raise at least $1.2 billion to help improve health and veterinary services in developing countries grappling with bird-flu outbreaks.
Experts attending the meeting also warned that countries must work together to battle the bird-flu threat.
"We must understand that when one country is not safe, the world is not safe," said Margaret Chan, the top pandemic expert with the World Health Organization (WHO). "Pandemic influenza, by nature, will go around the world, so it is important for us to work as an international community to get a better handle on the issue."
The WHO also announced today that Swiss drug maker Roche has agreed to donate a second stockpile of some 20 million doses of Tamiflu, the frontline medicine against bird flu.
(compiled from agency reports)
Interview With UN FAO's Erwin Northoff
Interview With UN FAO's Erwin Northoff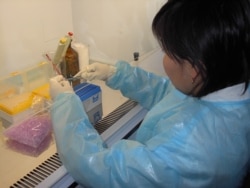 An expert at the National Virology Laboratory of the Kyrgyz Health Ministry (courtesy photo)
GETTING READY: Many have expressed concern about the ability of Central Asian countries to come to grips with a possible bird-flu outbreak. RFE/RL Turkmen Service correspondent Muhammad Tahir spoke with Erwin Northoff, news coordinator for the UN's Food and Agriculture Organization (FAO), about the issue. ....(more)