De-Baathification Commission Protests Hussein Trial Staff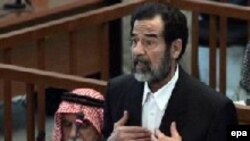 The commission says many of the staffers in the court where Saddam Hussein is being tried are Baathists (file) (epa) 20 January 2006 -- The Iraqi commission charged with eradicating Baathism in Iraq says 20 staff at the court trying Saddam Hussein should be barred because they once belonged to Saddam's Baath party.
The news comes about a week after the chief judge at the trial resigned in protest over political interference in the court.
On 18 January, the "De-Baathification Commission" said the judge chosen to replace Rizgar Amin is being investigated for his Baathist past and should not be allowed to head the tribunal.
It's the latest crisis to threaten a delay of the trial. Earlier, two defense lawyers were killed.
Defense lawyers at the trial and international rights groups have urged the trial to be moved abroad.
(Reuters)