Son Of Iraqi Defense Official Kidnapped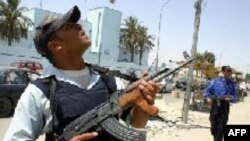 Iraqi police on patrol in Al-Basrah (file photo) (AFP) 21 January 2006 --  An Iraqi militant group has kidnapped the son of a senior Defense Ministry official and threatened to kill him unless Iraqi security forces stop cooperating with U.S. forces.
The Arabic satellite television Al-Arabiya on 21 January aired a video from a little-known group calling itself the Revenge Squadron in which a man identified himself as the son of Brigadier-General Sabah Abdul-Karim.
His father was described as a close aide to Iraq's Defense Minister Saadoun al-Dulaimi.
Al-Arabiya said Sabah Abdul-Karim recently resigned from his ministry post for unspecified reasons.
A group with a similar name kidnapped a sister of Iraq's interior minister earlier this month. She was released two weeks later.
(Reuters)

SUBSCRIBE For weekly news and analysis on Iraq by e-mail,
subscribe to "RFE/RL Iraq Report."