U.S. Army Officer Guilty Of Iraqi General's Death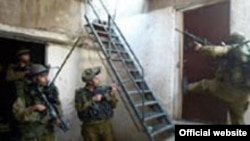 U.S. soldiers searching Iraqi homes (file photo) (official site) 22 January 2006 -- A U.S. army interrogator has been found guilty of the negligent homicide of an Iraqi general who was being held in custody.
After six hours of deliberations, a panel of six army officers ruled on 21 January that Chief Warrant Officer Lewis Welshofer was guilty of dereliction of duty but acquitted him of assault.
Welshofer was accused of putting a sleeping bag over the head of Major-General Abed Hamed Mowhoush, sitting on his chest, and using his hand to cover the general's mouth while asking him questions in 2003.
Welshofer faces up to three years in jail.
(AP)