Rugova, who championed Kosovo's independence but backed peaceful resistance to Serbian rule, died of lung cancer on 21 January. He was 61.
Over the next few days thousands more will file past the body of a man many Kosovars say will be sorely missed.
"It's a big loss for Kosovo, it's a big loss for the Albanian nation, it's a big loss for everybody," said Hazir Kelmendi, one of those who came to express their condolences.
His sentiments were echoed by Nazmi Kozhani, a Pristina resident. "We will miss him, he worked a lot for Kosovo, he was a wise man, well known in the world," he said.
Thousands had already silently paid their respects at Rugova's presidential residence on 22 January, laying flowers or lighting candles that spelled out his name.
Rugova will be buried on 26 January in Pristina, the province's capital.
Rugova's death comes at a delicate moment for Kosovo.
Talks were meant to begin this month on the final status of the province. They have now been put off to February.
Kosovo is legally still part of Serbia-Montenegro, but has been under United Nations administration since the end of NATO's intervention in 1999 against Serbian forces.
The province's Albanians hope the talks will bring full independence -- a cause Rugova championed for years, but one vigorously opposed by Belgrade.
Those talks are now delayed until next month and it is unclear who will take Rugova's negotiating role -- or succeed him as president.
Rugova's functions have temporarily been assumed by the speaker of parliament, Nexhet Daci.
International leaders have appealed for calm and unity, in keeping with Rugova's efforts to bring peace and stability to Kosovo.
Soren Jessen-Petersen, the top UN official in the province, said: "The best tribute that we can pay to the life, the dedication, the leadership and courage of President Rugova is to stay united. All citizens. All institutions. Work to realize the president's vision [of peace and stability]."
The international tributes to Rugova were supplemented on 23 January by U.S. President George W. Bush. In an official statement issued by the U.S. mission in Pristina, Bush said he viewed Rugova as a "true friend" and a "voice for reason and moderation" who had laid the groundwork for a peaceful future in Kosovo.
Rugova will be remembered for championing independence for Kosovo through peaceful resistance.
He also spoke of his commitment to a democratic and multiethnic Kosovo. "Let's work and do – all of us – more for progress in Kosovo," he said in an interview with RFE/RL in December 2004. "At the same time, we have to work more toward mutual tolerance and for respecting each other's [nationalities]."
(compiled from agency reports)
Rugova Visits RFE/RL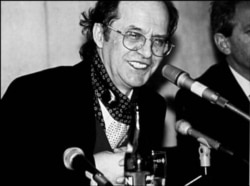 Rugova at RFE/RL's Prague headquarters in 1998
IBRAHIM RUGOVA visited RFE/RL headquarters in Prague on December 18, 1998, in order to highlight the oppression of Albanian-language media in Kosovo by the government of then Yugoslav President Slobodan Milosevic.
The Serbian Information Ministry on December 18, 1998 threatened two newspapers in Kosovo with prosecution for allegedly "stirring up terrorism and calling for the violent overthrow of the constitutional order." Serbia passed an information law two months earlier, setting fines for articles perceived to threaten the constitutional order.
Rugova said Serbian authorities have subjected Albanian-language media in the province to years of repression, shutting down some 90 periodicals, barring Albanian-language television programs and banning or jailing local journalists. He said there were two Albanian-language dailies left - "Bujku" and "Koha Ditore" - which continue to function. Rugova also said Serbian forces could, in his words "exterminate Kosovars next spring in a couple of days if they wanted to." He said this is why it is his goal to achieve a negotiated interim political settlement with the help of the international community.
For a complete archive of RFE/RL's coverage of events in Kosovo, click here.