The first bomb reportedly exploded in front of a bank. The second blast was in front of a government office for natural resources. No one has claimed responsibility.
"Unfortunately we have been informed that, so far, in the Ahvaz bombing incidents, six people have been martyred in Kianpars [neighborhood] in front of Samaneh Bank, and 15 people have been injured," Radio Farda quoted Colonel Salehi, an official with Iran's Police Emergency Center, as saying on Iranian state television. "On the Golestan road, in front of the natural-resources [office], nine more of our Ahvazi countrymen were injured."
Salehi went on to suggest that early indications suggested that concussion bombs had caused the explosions, but that remained unconfirmed.
Also today, Iran's official IRNA news agency said President Mahmud Ahmadinejad had canceled a planned visit to Ahvaz,
citing a forecast of "heavy rain."
Previous Bombings, Unrest

Ahvaz, capital of the oil-rich province of Khuzestan, has been the scene of intermittent unrest among the predominantly Persian country's Arab minority.

A major bombing in the city in October that authorities blamed on Britain and on ethnic Arabs killed several people and injured scores.
A local journalist in Ahvaz, Mojtaba Gahestuni, suggested to Radio Farda that today's explosions resembled blasts that killed more than a dozen people and wounded more than 100 in the same city in June and October. Gahestuni noted that in each case an initial blast was followed shortly thereafter by a second explosion, and that the attacks took place in crowded parts of the city.
(compiled from RFE/RL and agency reports)
Iran's Arab Minority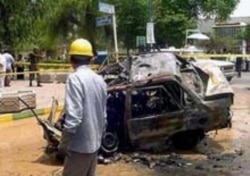 The aftermath of a car bombing in Ahvaz on June 12, 2005 (epa)
DISCONTENT IN THE SOUTH: There are approximately 2.07 million ethnic Arabs in Iran (3 percent of the total population of 69 million), most of them living in the region around the southern city of Ahvaz. The region has been the scene of numerous terrorist attacks and demonstrations over the years. Arab groups cite historical grievances, and they bemoan inadequate attention to their culture and language by state media....(more)
RELATED ARTICLES
Handling Of Ahvaz Unrest Could End With Televised Confessions
Bombing Accusations Highlight 'Differences And Disagreements'
Bombings In Southwest Blamed On Usual Suspect