WASHINGTON, 24 January 2006 (RFE/RL) -- The FSB gathered a select group of Russian reporters on 22 January to discuss the spy scandal that erupted after the RTR broadcast.
FSB chief spokesman Sergei Ignatchenko said the scandal involved alleged British spies passing information via a transmitter hidden in a rock planted on a Moscow street.
Russian National Reportedly Confessed
"The know-how here is such that the intelligence officer can communicate with his agent without meeting him at all," Ignatchenko said. "Let us visualize the situation: the agent, who has to transmit information, walks near the rock, approaches it and transmits information at a distance of about 20 meters via a special device. The intelligence officer also walks nearby, receives information and gives new instructions to his agent."
Ignatchenko said the effort was aided by a Russian national, whom the spokesman said has been arrested and who has admitted to spying for British intelligence.
Twelve NGOs Named
The FSB spokesman also claimed that one of the British Embassy staffers had provided funding to Russian NGOs via the Foreign Office's Global Opportunities Fund.
Ignatchenko said 12 Russian NGOs had received those funds -- including the Committee Against Torture, the Center for Development of Democracy, the Eurasia Foundation, and the Moscow Helsinki Group.
The UK Foreign Office issued a statement on 22 January in which it rejected "any allegation of improper conduct in our dealings with Russian NGOs." "It is well known that the UK government provides financial support to projects implemented by Russian NGOs in the field of human rights and civil society," the government statement said. "All our assistance is given openly and aims to support the development of a healthy civil society in Russia."
Looking Forward To The Elections
Lyudmila Alekseyeva, founder and chairwoman of the Moscow Helsinki Group who is also a regular contributor to RFE/RL's Russian Service, acknowledged that her group received money from the British Embassy in 2004. She said the money was to finance a trip by activists to the United Kingdom to study international documents on human rights. Alekseyeva described the entire scandal as a "fabrication" whose long-term goal is to stifle dissent before the 2007 State Duma elections and the 2008 presidential race.
"As far as I understand, the goal of these actions is to prepare the public for the crushing defeat of human rights groups, [which are] the more active and independent part of civil society in Russia," Alekseyeva told RFE/RL. "The idea is to repress human rights activists and after that trample down civil society, so that everyone will be silent for 2007-08 and beyond."
Irina Yakishina, director of the Eurasia Foundation in Moscow, denied receiving any funding from the British Embassy in 2005.
However, like the Moscow Helsinki Group, the Eurasia Foundation did receive a grant in 2004 of about $105,000 that was intended to promote independent newspapers in provincial Russian cities.
The New Law
The spy scandal is just the latest event in an ever-widening campaign of pressure against Russian NGOs that has attracted the attention of Western leaders.
At the center of the controversy is a law on NGOs that Russian President Vladimir Putin signed this month and that takes effect in April. It imposes harsh conditions on the registration and operation of NGOs and effectively bans foreign funding for any NGOs involved in politics.
Sarah Mendelson, a senior fellow at the Washington-based Center for Strategic and International Studies, noted that this is not the first time the FSB has accused NGOs of being a security threat.
"Let's remember there is a pattern also going back quite a few years where the Russian authorities have decided people who were trying to get fair wages for Russians, working on labor issues, that that was somehow involved in national security," Mendelson said. "The Peace Corps was thrown out. The OSCE has been thrown out at various times."
The difference in this case, according to Mendelson, is that the authorities are not applying pressure quietly. Since its debut on 22 January, the footage of the "spy rock" has been shown on RTR repeatedly. Alekseyeva is concerned that the broadcast will be convincing for "poorly educated and gullible" people.
(RFE/RL's Russian Service contributed to this report.)
Lyudmila Alekseyeva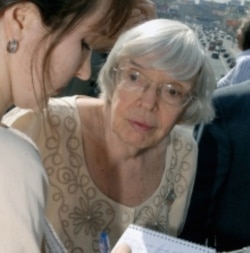 Lyudmila Alekseyeva (TASS)

THE END OF THE 'GOLDEN AGE' Moscow Helsinki Group founder and Chairwoman LYUDMILA ALEKSEYEVA spoke at an RFE/RL briefing in Washington, D.C., on October 26, discussing the difficulties facing Russian nongovernmental organizations. Tanya Lokshina, chairwoman of the DEMOS Center for Information and Research, also participated in the briefing.
According to Alekseyeva, who is a regular contributor to RFE/RL's Russian Service, the time in office of former Russian President Boris Yeltsin is considered a "golden age" for Russian NGOs -- even though this is "not [because] Yeltsin was a strong democrat," but rather because "society was left to its own devices and we managed to build civil society" while the "power elites" struggled among themselves and ignored the lower strata. Alekseyeva said Russia has emerged from its economic crises under President Vladimir Putin, but there is "no division of power in Russia under the model of executive vertical controls," where regional governors, a "puppet parliament," and a judiciary "stripped" of independence are under the Kremlin's control. Nonetheless, according to Alekseyeva, Russia is "not returning to Soviet times," because "today the attacks are selective" and "there is now a civil society" to resist the pressure.
Alekseyeva expressed concern that "Western democratic states don't react to attacks on human rights." She said that "in Soviet times, we few dissidents felt enormous Western support." She called that support "our shield," which she said is now missing. The supporters of civil society feel "now abandoned by Western allies," Alekseyeva said.
LISTEN
Listen to the complete panel discussion (about 90 minutes):

Real Audio
Windows Media
More stories featuring Alekseyeva and the Moscow Helsinki Group:
Human Rights Groups Spurn Chechen Poll
What Is The Biggest Threat To Stability In Kabardino-Balkaria?
Geologist Takes Law Abolishing Election Of Regional Leaders To Court