European Investigator Says U.S. Outsourced Torture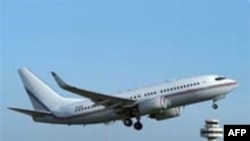 A CIA plane leaving from Spain in 2004. The European investigator says the CIA flew prisoners into third countries for interrogation (AFP) 24 January 2006 -- The head of a European human rights investigation says he believes the United States flew detainees to countries where they would be tortured.
But the investigator, Dick Marty of Switzerland, told the Council of Europe in Strasbourg that he found no firm evidence to support allegations the CIA operated secret detention centers in Europe.
The U.S. has come under strong criticism for allegedly operating such centers in Romania, Poland, Ukraine, Kosovo, Macedonia, and Bulgaria. U.S. officials have neither confirmed nor denied the existence of the centers, but say no laws were violated.
Marty said he estimated more than 100 people were involved in the renditions -- the practice of delivering prisoners to jails in third countries for possible mistreatment or torture.
He said European governments probably knew about the renditions, but did not disclose them.
(Reuters, AFP)



A slideshow of images related to the top news stories of 2005.
See also:
2005 In Review: Text Messaging Takes World By Storm
2005 In Review: Bush's Democracy Agenda Sees Mixed Results
2005 In Review: EU Lives Year Of Gloom, With Future Uncertain