The declaration was issued in a brief statement tonight in Moscow following talks between Ivanov and Iranian Supreme National Security Council Secretary Ali Larijani.
The statement followed discussions between Iranian Deputy Foreign Minister Mehdi Safari and the head of Russia's Atomic Energy Agency (Rosatom), Sergei Kiriyenko. The talks focused on Russia's participation in building Iran's Bushehr nuclear power plant.
The United States and the European Union are concerned about Iran's recent resumption of its nuclear program. They want the matter to be referred to the UN Security Council for possible sanctions.
Iran has denied charges that it is seeking to develop nuclear weapons, saying its program is for peaceful purposes.
(ITAR-TASS, Interfax, AP)
Who's Got The Bomb?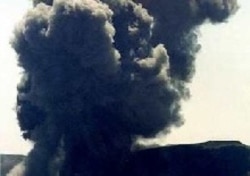 DECLARED NUCLEAR-WEAPONS COUNTRIES:
country warheads (est.) date of first test
United States 10,500 1945
Russia 18,000 1949
United Kingdom 200 1952
France 350 1960
China 400 1964
India 60-90 1974
Pakistan 28-48 1998
North Korea 0-18 2006
Notes:
Israel is widely believed to possess nuclear weapons, but it has not declared itself a nuclear-armed country.
South Africa constructed six uranium bombs but voluntarily dismantled them.
Belarus, Kazakhstan, and Ukraine all gave up the nuclear weapons that were on their territory when the Soviet Union collapsed in 1991.